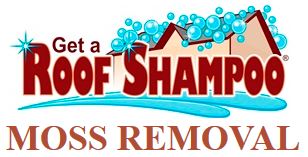 ROOF CLEANING
ROOF MAINTENANCE
ROOF REPAIR
NO BLEACH
ROOF SAVERS
People-Plant-Pet Friendly
(No harmful chemicals)
509-294-6999
Contractor # MRCHICI853QT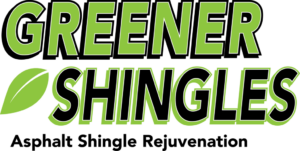 EXTENDS LIFE OF THE SHINGLE
INCREASES SHINGLE FLEXIBILITY
LOCKS IN GRANULAR
ROOF SAVERS MISSION STATEMENT
Roof Savers is a division of Mr Chimney Inc. Mr Chimney is known for high quality work and excellent service. You will get the same quality and service from Roof Savers. Working on rooftops rebuilding and cleaning chimneys over the years we noticed a great need for roof top moss removal and basic roof maintenance. Coming across a high percentage of roofs with broken shingles, missing shingles, improperly installed chimney flashings, and many homes where the asphalt roofs natural oils in roofs were drying out as evidenced by the granular shedding on the roof. We purchased nationally known and highly regarded Roof Shampoo for the area in 2016 and are meeting the demand for a PEOPLE-
PLANT-PET FRIENDLY roof cleaning through a process that requires no harmful chemicals, no bleach and no high pressure water. The transformation to your roof is visually dramatic and will extend the life of your roof. Since then we repair and install chimney and roof flashing, replace broken shingles, replace cracked vent pipe flanges, and solve leak issues as well as installing preventative measures like zinc strips, and applying Roof Shampoos moss preventative patented spray to help keep moss from coming back.
But what about all the roofs that are drying out? What about the premature loss of the granules on the asphalt rooftops. Why do so many shingles break off during windstorms? Is there a way to replenish the oils and slow down the granular loss thus extending the life of the roof? What roof companies are in the business of making minor repairs to help families get more life out of their roofs instead of only offering a complete roof replacement? The answer is Spokane's ROOF SAVERS! We purchased the GREENER SHINGLES roof rejuvenation process and have exclusive rights in Eastern Washington. This is an environmentally friendly process that uses soy bean oil based rejuvenators to rejuvenate your asphalt roof shingles. You can take a brittle dried out shingle on your roof top that would crack or
break when bent and flex it back and fourth after it is rejuvenated with Greener Shingles soy oil! The before and after affect is truly amazing and will add years to the life of your roof. Call Roof Savers for a free roof evaluation and estimate to rejuvenate your roof today!
Serving Spokane, WA & Surrounding Areas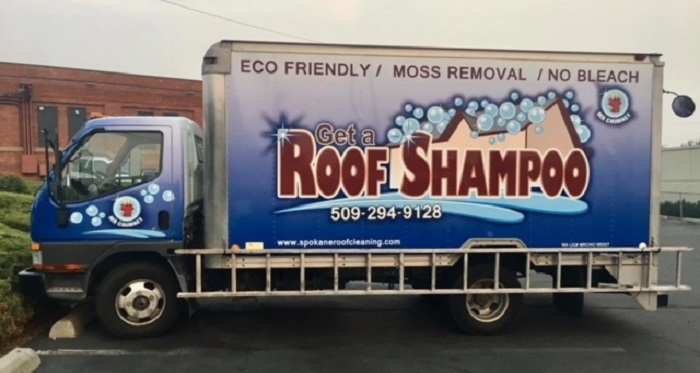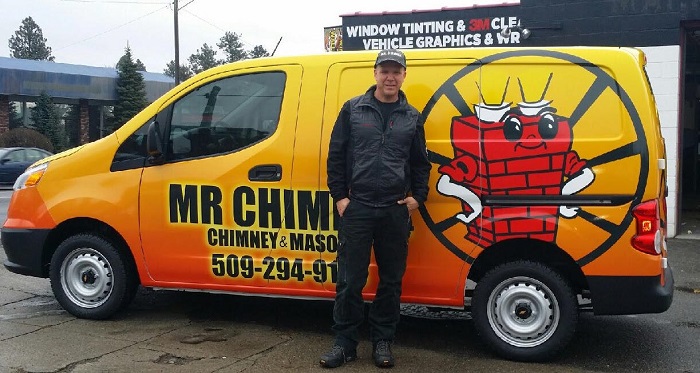 Roof Shampoo® is the green, eco-friendly roof cleaning solution for asphalt and fiberglass shingles. Roof Shampoo® does NOT contain dangerous chlorine bleach or phosphates. The Roof Shampoo® roof cleaning method uses safe, effective, eco-friendly roof cleaning products to clean those ugly roof stains and will not harm any landscaping around your home.
When Roof Shampoo® roof cleaning technicians leave your house, your algae stained roof will be STAIN FREE. No waiting for rain, no wondering, and no worrying if the algae, fungus, lichens, or moss will really go away as with other roof cleaning methods. With Roof Shampoo® you will able to see for yourself - instantly. Results are IMMEDIATE and Complete!
IMPORTANT NEWS: Consumer Reports praises Roof Shampoo® AND warns AGAINST bleach.
The cleaner your roof, the healthier your roof!  Roof Shampoo® professionals are trained technicians using state-of-the-art equipment that delivers a soft, gentle low pressure water wash. NEVER damaging high pressure and absolutely NO scrubbing or brushing. There is no need to prematurely re-roof. Contact the Roof Shampoo® Contractor near you and make your dirty roof look new again.  Go with the true GREEN, roof cleaning method for cleaning roof stains, Roof Shampoo®.
The proprietary Roof Shampoo® ultra-light low pressure aluminum sprinkler-disc rinse system was engineered specifically for use on asphalt and fiberglass shingles. 
The sprinkler-disc rinser delivers a gentle, soft water rinse completely safe for all roof surfaces. NEVER damaging high pressure and absolutely NO scrubbing or brushing!   
"Roof Shampoo® has revolutionized the roof cleaning industry."